The New IRA admitted responsibility for the slaying of Northern Ireland journalist Lyra McKee in a letter to local media late Monday.
"In the course of attacking the enemy Lyra McKee was tragically killed while standing beside enemy forces," the militant group said in a statement provided to The Irish News, which was verified using a recognised code word.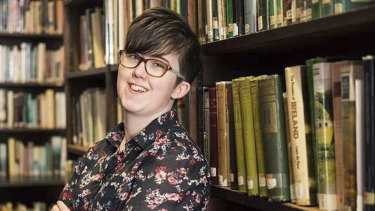 Lyra McKee who was shot and killed when guns were fired during clashes with police in Londonderry, Northern Ireland. Credit:AP
"The IRA offer our full and sincere apologies to the partner, family and friends of Lyra McKee for her death."
McKee was standing near police when she was shot in the head around 11pm on Thursday in Creggan, a suburb in the city known as Derry to Irish nationalists and Londonderry to British unionists.
The unrest in the city came just before the Easter weekend, when republican dissidents, who want to reunify Northern Ireland with the Republic of Ireland, traditionally mark the anniversary of the 1916 Easter Uprising against British rule.
The New IRA said on Monday that the rioting prior to McKee's death was "provoked" by police.
"On Thursday night, following an incursion on the Creggan by heavily armed British crown forces which provoked rioting, the IRA deployed our volunteers to engage," it said.
"We have instructed our volunteers to take the utmost care in future when engaging the enemy, and put in place measures to help ensure this," it added.
The group rejects the Good Friday agreement of 1998, which put an end to three decades of sectarian conflict in Northern Ireland that claimed more than 3600 lives. They want to bring about a united Ireland.
DPA
Source: Read Full Article