New York (CNN Business)Stocks were sliding again Friday, despite a solid August jobs report. The Dow fell 300 points after initially opening higher. The S&P 500 was down 1% and the tech-heavy Nasdaq Composite dropped nearly 2%.
The market sell-off accelerated following a report from the Financial Times saying that Japanese investing giant SoftBank (SFTBF) had made a massive bet on risky derivatives tied to big tech stocks, amounting to billions of dollars that could have fueled the Nasdaq rally.
Investors were selling even though the US economy added 1.4 million jobs in August, which was in line with expectations, but it was down from the 1.7 million jobs added in July and 4.8 million in June. Every person who can go back to work is a win for the recovery from the coronavirus-fueled joblessness crisis, but America is still down 11.5 million jobs from February.
Shares of Tesla (TSLA), which has been one of the market's biggest winners in 2020, continued to fall sharply, too, since splitting its stock earlier this week to lower its share price. Shares were down 6% and are off nearly 25% from their all-time high.
Friday's failed attempt at a market rebound follows Thursday's massive drop for stocks, which was led by big sell-offs in red hot techs such as Apple (AAPL), Amazon (AMZN) and Microsoft (MSFT).
"The market had been so narrowly led that a drop like this was bound to happen." said Scott Clemons, chief investment strategist at Brown Brothers Harriman.
The Dow slid more than 800 points Thursday, in what was the worst day for stocks since June. That pullback came just one day after the S&P 500 and Nasdaq both hit new all-time highs and is a sign that market volatility may be back.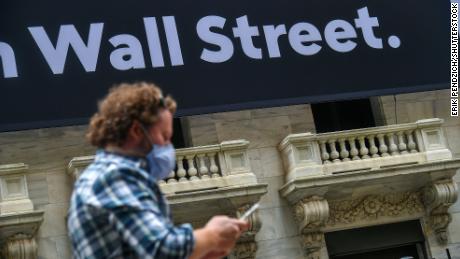 There are growing concerns as well about the possibility that the White House and Congress may not be able to agree on a new package of stimulus for consumers and businesses that have been hit hard by the Covid-19 pandemic.
Without a significant new round of payments for people who are out of work, the market slide could accelerate further. Businesses may also feel less comfortable hiring people back.
"There have been encouraging signs in the job numbers lately but you have to wonder about the expiration of stimulus and inability of Washington to do more. There could be further declines around the corner if this is not rectified," said John Pataky, executive vice president and chief banking officer with TIAA Bank.
It also appears that investors have simply decided to rotate out of riskier tech stocks, which have helped lead the broader market higher for the past few years, and into more cyclical companies.
To that end, financial giants American Express (AXP), JPMorgan Chase (JPM) and Travelers (TRV) were Dow leaders Friday.
Financial firms might also be benefiting from the fact that the Federal Reserve is likely to keep interest rates near zero for the foreseeable future. Fed chair Jerome Powell said as much in a speech last week. Low rates could fuel another boom in home buying as well as mortgage refinancing.
Big dividend payers Verizon (VZ) and Coca-Cola (KO) — as well as new Dow components Honeywell (HON) and Amgen (AMGN) — also held up relatively well. The stocks were flat on what was a rough day for the market.
Software company Salesforce (CRM), another new Dow member, was the biggest loser Friday, plunging 6%. Microsoft and Apple were also among the bigger Dow laggards.
It has been a whirlwind week for stocks. The Dow is down about 2% over the past five days whlle the S&P 500 and Nasdaq fell 2.7% and 4% respectively. Investors will have to sit tight until Tuesday to see if Wall Street can get back on track, The US stock market is closed Monday for Labor Day.
Source: Read Full Article