Democratic presidential contender Pete Buttigieg has released the names of the clients he worked with during his time at the controversial consulting firm McKinsey & Co.
The disclosure comes a day after McKinsey said it was releasing Buttigieg from a confidentiality agreement that the South Bend, Indiana, mayor had previously pointed to as his reason for withholding the names of his former clients.
Here's the list his campaign released: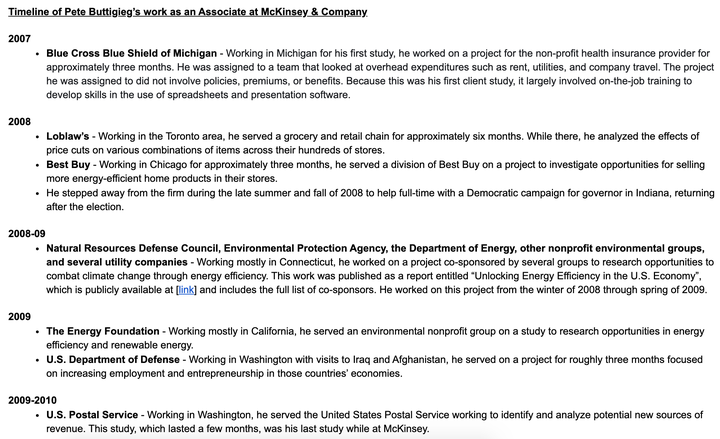 The clients he named are Blue Cross Blue Shield of Michigan, Loblaw's, Best Buy, the Natural Resources Defense Council, the Environmental Protection Agency, the Department of Energy, the Energy Foundation, the U.S. Department of Defense and the U.S. Postal Service.
He also said he worked for "other nonprofit environmental groups, and several utility companies," but gave no more details on those.
"Now, voters can see for themselves that my work amounted to mostly research and analysis," he said in a statement. "They can also see that I value both transparency and keeping my word."
He first revealed the list in an interview with The Atlantic.
"We recognize the unique circumstances presented by a presidential campaign," a McKinsey spokesperson said in a statement on Monday, according to Politico. "After receiving permission from the relevant clients, we have informed Mr. Buttigieg that he may disclose the identity of the clients he served while at McKinsey from 2007 to 2010."
Buttigieg offered an overview of his work at McKinsey last week and called on the firm release him from the nondisclosure agreement.
As his presidential campaign has taken off, Buttigieg's work at McKinsey has come under scrutiny. The consulting firm employs nearly 30,000 employees spread across the globe and has become infamous for taking on ethically questionable projects, such as advising authoritarian regimes.
Several media reports in recent weeks have uncovered new disclosures about McKinsey's work on behalf of President Donald Trump's massive deportation efforts. The firm advised the U.S. Immigration and Customs Enforcement agency to save money by cutting spending on food, supervision and medical care to immigrants. Buttigieg's former employer also helped ICE develop a plan to accelerate deportation proceedings.
The company has performed consultant work for Saudi Arabia's autocratic government and corrupt groups in South Africa.
Buttigieg has said his focus at McKinsey ranged from dealing with consumer goods to government contracts. In 2009, he visited Afghanistan and Iraq on behalf of the U.S. government for a project focused on employment in those countries.
"I never worked on a project inconsistent with my values, and if asked to do so, I would have left the firm rather than participate," he said.
Here is the timeline Buttigieg shared, which describes the type of work he did at McKinsey: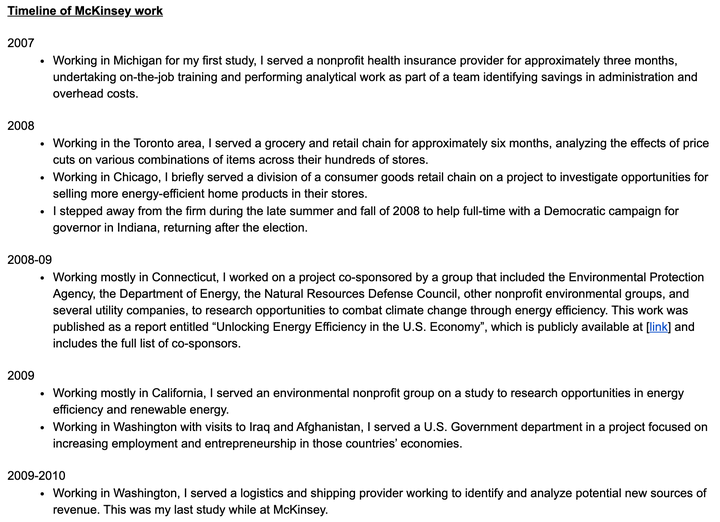 This story has been updated with Buttegieg comment. Lydia O'Connor contributed reporting.
Source: Read Full Article