Both Jet Airways and Go First have met with a similar fate of landing up in insolvency, albeit for different reasons.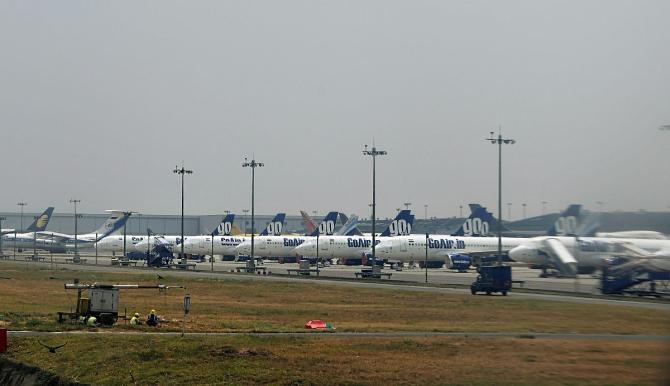 Whether Go First will be able to avoid the sharp erosion in value like in the case of Jet, experts say, will depend on how quickly it is able to restart operations and retain its slots at airports.
Go First, owned by the Wadia group, filed for voluntary corporate insolvency resolution on May 2 due to inadequate capacity utilisation that led to a cash crunch.
Jet Airways, on the other hand, had tried its hand at debt restructuring before being dragged into insolvency proceedings by its lenders in June 2019, and the process hasn't neared an end four years since.
While Jet Airways struggled to get investors after it entered insolvency, Go First might not face that problem as the existing promoters would be able to participate in the resolution process.
This is because Go First went for voluntary insolvency when the airline's loans were not yet classified as non-performing assets.
"The challenge for resolution professionals is to restart operations.
"The airline will need interim funding and the support of several stakeholders, including lessors, to restart operations and this needs to be done at warp speed," said Anoop Rawat, partner, Shardul Amarchand Mangaldas.
In contrast, Jet Airways was much bigger when it shut down in 2019.
It operated a fleet of 100-plus aircraft out of over 40 domestic and 24 international locations.
Jet's large international operations resulted in cross-border challenges.
A separate liquidation process was initiated in the Netherlands, and one Jet-owned wide-body aircraft was seized in Amsterdam.
Creditors' claims in the Netherlands were combined with the Indian process and addressed as per the cross-border cooperation protocol.
Jet Airways also had a subsidiary, JetLite (erstwhile Air Sahara), which was not a part of the insolvency process.
Ashish Chhawchharia, partner at Grant Thornton Bharat and resolution professional of Jet Airways, said: "We received and processed claims in 26 different foreign currencies from over 4,000 operational creditors and nearly 14,000 employees.
"There were almost 1 million ticketed passengers seeking refunds and approximately 30 financial creditors forming part of the CoC."
Drawing from his experience, Chhawchharia said a quick restart of Go First will restore customer confidence and help retain trained and licensed employees, who are vital for the business.
"It could start generating cash from ticket sales, which will help fund working capital requirements… Being a highly regulated business, the confidence of the regulators in safety and financial ability would also be key for swift revival," Chhawchharia added.
Insolvency experts said anyone looking to restructure Go First now will need to evaluate the assets – tangible and intangible – and the potential of India's aviation market over five to ten years.
"The civil aviation sector was one of the worst hit during Covid-19.
"The primary lesson learnt is that you need deep pockets and active support of the promoters and partners to ensure long-term survival," said Jyoti Prakash Gadia, managing director, Resurgent India.
While some experts said the admission of Go First's insolvency had prevented foreign lessors from taking back planes, others praised the timely action.
"Perception is very important and it will be in favour of Go First. In a voluntary process, the approach will be value maximisation, while when it is lender led, it is a more cautionary approach," said Sonam Chandwani, managing partner at KS Legal & Associates.
By June 2019, when Jet Airways was admitted into insolvency, it had lost its CEO, CFO, company secretary and several senior executives.
A quarter of its employees had quit, and its air operator certificate too was suspended before the start of insolvency.
Go First doesn't face this challenge. It still has its senior leadership on its rolls, and they can assist resolution professional Abhilash Lal in his task.
"Operationalising Go First quickly will thus be critical as it will make it more attractive to investors," said a person who has closely tracked the Jet insolvency process.
A Go First executive said the airline was seeking legal views as lessors have terminated leases of 45 of its 54 aircraft and appealed against the insolvency admission order.
Twenty-eight of its aircraft have been grounded due to lack of engines.
"Under the circumstances it makes strategic sense for lessors to stay locked with Go First and ensure maintenance actions continue so as to not let the value of assets erode," said aviation consultant Mark Martin.
Source: Read Full Article