Ultra high networth individuals contributed Rs 4,230 crore as compared to Rs 11,821 crore in FY21.
Surajeet Das Gupta reports.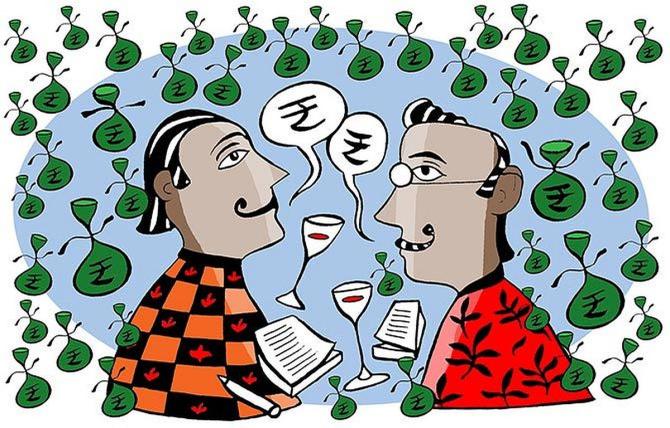 Philanthropic contributions made by India's ultra high networth individuals (net wealth of over Rs 1,000 crore), also known as UHNIs, have fallen sharply to Rs 4,230 crore in FY22, from Rs 11,821 crore the previous financial year, according to the India Philanthropy Report 2023 by Dasra and Bain & Co, which was released on Wednesday.
The report says that the dramatic fall, almost by a third, was due to the fact that contributions by the Azim Premji Foundation dropped by Rs 9,000 crore due to a share buyback of Wipro, which helped the foundation to access liquidity directly.
However, the report laments that even excluding the Premji Foundation's contribution, "Indian UHNI contribution has not kept pace with wealth creation" and is "below par, with a 5 per cent contraction in FY2022".
That is because, excluding Premji's largesse, UHNI contribution by all others fell to Rs 3,843 crore in FY22, compared to Rs 4,041 crore in FY21.
And the fall in the quantum of philanthropic contributions, the report says, has taken place despite the fact that UHNI net wealth in India went up by 9.2 per cent in FY22, with the top level of those with a wealth of Rs 50,000 crore witnessing 19 per cent growth.
The report shows that overall private philanthropic growth has been stagnant, with the total giving of Rs 105,000 crore in FY22 the same level as in FY21.
The good news is that corporate social responsibility (CSR) spending has gone up by 5 per cent over FY21, to Rs 27,000 crore.
Moreover, contributions by high networth individuals (with wealth of Rs 200 crore-1,000 crore) and affluent people were up by 11 per cent over FY21, while retail giving rose by 17 per cent over FY21.
However, foreign funding has fallen from 21 per cent of total contributions in FY17 to 14 per cent in FY22.
But the biggest fall was in the share of UNHIs in total philanthropic giving — from 11.4 per cent in FY21 to a mere 3.8 per cent in FY22.
Clearly, Indian UHNIs are not giving away as much of their wealth as their counterparts do in the US, UK and China.
The average contribution of UNHIs in India was only 0.06 per cent of their networth, compared to 1.37 per cent in the US, 0.33 per cent in the UK and 0.38 per cent in China in FY22.
In the wealth band of Rs 1,000 crore to Rs 10,000 crore, Indian UNHIs' philanthropic contributions in FY22 were merely 0.04 per cent of their networth, compared to 6.07 per cent in the US, 1.34 per cent in the UK and 2.15 per cent in China in the same year.
Based on sectoral trends, India's UNHIs have preferred to concentrate on education and health, unlike in the US where the focus is slowly shifting away from them.
In FY22, 51 per cent of Indian UNHIs' contributions were in these two sectors.
The report says that a sample of the UHNI givers surveyed revealed that 70-75 per cent of them contribute at least a share of their total contributions towards education or healthcare.
In sharp contrast, philanthropy in developed countries is more varied, with only 40 per cent to 45 per cent of givers contributing to education or healthcare.
Source: Read Full Article