Festival season may add vibrant strokes to volumes, but margins remain a blank canvas.
Paint companies have lagged behind their consumer peers in the past year.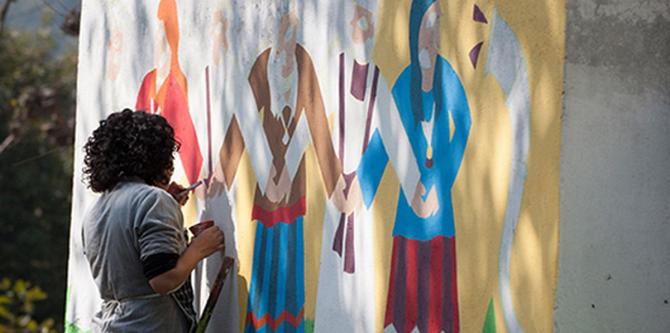 While the four largest listed paint companies have seen marginal negative returns, the S&P BSE Fast Moving Consumer Goods (FMCG) and the National Stock Exchange Nifty FMCG indices have delivered a solid 16 per cent return during the same period.
Initially, volume growth and reduced costs bolstered the sector's sentiment, but brokerages have grown cautious due to increased competitive pressures.
The entry of new players and the necessity for additional advertising investment are anticipated to impact incumbent players' profitability.
Worries about slowing volumes and a sharp increase in crude oil prices have intensified the headwinds facing the sector.
Therefore, market watchers will closely monitor margin movements in the July-September quarter, as well as the trajectory of volume growth.
In the April-June quarter, paint majors delivered an impressive double-digit volume growth performance compared to the previous year.
Asian Paints, the market leader, reported a 10 per cent growth in the decorative paint segment, while Berger Paints saw a 12.7 per cent increase.
Analysts at Kotak Institutional Equities Research, led by Jaykumar Doshi, note that after the double-digit growth in the first quarter, demand for decorative paints in the current quarter has been relatively subdued.
"We estimate industry volume and value growth to be 5-6 per cent and 3-4 per cent, respectively, for the July-September quarter," they add.
ICICI Securities also predicts low-to-mid-single-digit volume growth for the sector in July and August this year.
Dealers are anticipating a strong September and October, thanks to a favourable base and a delayed Diwali in 2023, according to analysts at the brokerage, led by Manoj Menon.
Looking ahead, the sector faces two key challenges.
First, there's concern about the surge in crude oil prices and its impact on raw material costs for the listed majors.
Second, Grasim's paint brand, Birla Opus, is set to launch by the end of the current financial year (2023-24).
Brent crude oil prices, currently trading at $94 per barrel, have risen by 26 per cent over the past three months.
Titanium dioxide, a crucial raw material for paint companies, is a derivative of crude oil, so its rising prices will make raw materials more expensive.
Approximately 50-60 per cent of the raw material costs for paint makers come from crude oil.
In a recent report, Motilal Oswal Research highlighted that crude oil prices have surged, surpassing $90 per barrel, reaching their highest level in nearly nine months.
This increase comes as Russia and Saudi Arabia decided to prolong their supply reduction.
Kotak Institutional Equities Research points out that crude oil prices in rupee terms have risen by about 10 per cent sequentially in the second quarter, at a time when the competitive landscape is pushing for higher rebates and discounts.
The brokerage expects high paint input commodity prices to exert some pressure on the margins of paint companies.
While lower input costs and strong operating performance helped Asian Paints report a 523-basis point (bp) year-on-year (Y-o-Y) jump in gross margins to 42.9 per cent and a 502-bp Y-o-Y improvement in operating profit margins to 23.1 per cent in the June quarter, margin expansion on a sequential basis could be challenging (with little impact on a Y-o-Y basis).
Grasim's entry into the Rs 70,000 crore paint sector in the country with the brand Birla Opus could pose a challenge to the incumbents, given its substantial investment of Rs 10,000 crore and the strength of its existing distribution network.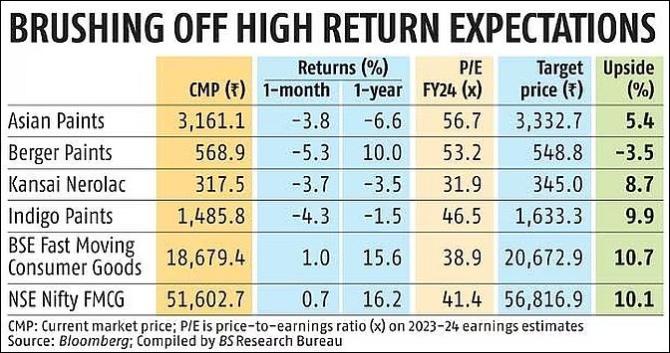 Brokerages hold mixed views on the impact that the large entrant will have on the incumbents.
While Nuvama Research suggests that Grasim is likely to be a serious challenger, they highlight that decorative paint leaders Asian Paints and Berger Paints have maintained double-digit volume growth in most years despite competition from several domestic and international players entering India's paint market with aggressive advertising spending and product innovation.
Analysts at the brokerage, led by Abneesh Roy, believe that their ability to withstand competition and grow at a robust pace reflects multiple entry barriers in the sector.
Considering Grasim is gunning for the no. 2 slot in the paint sector, Kotak Institutional Equities Research believes that Berger Paints is more vulnerable than Asian Paints to Grasim's entry.
The new entrant is likely to avoid a head-on battle with Asian Paints and focus on displacing the top two to four brands in dealer outlets.
Additionally, Asian Paints' strength in adjacencies such as waterproofing and home décor could help it defend market share better in large retail outlets (mega/platinum dealers), according to the brokerage.
Source: Read Full Article