Floating-rate mutual funds are back in demand after a year-long period of consistent outflows.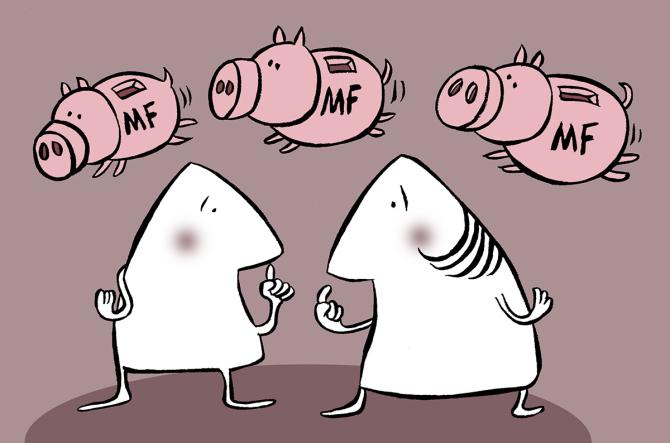 In the past three months, investors have poured over Rs 6,100 crore into these debt schemes, indicating a reversal in fortunes for the category that recorded outflows for 11 consecutive months (May 2022 to March 2023), totalling Rs 32,250 crore.
Floating-rate funds invest at least 65 per cent in floating-rate instruments, which have their interest rates linked to the Reserve Bank of India repo rate.
The inflows have started to come in after the floating-rate funds outperformed all other debt categories in the last year, except for credit risk funds.
A few of the schemes — like those managed by ICICI Prudential, Franklin Templeton, and DSP — have delivered over 8 per cent returns in the one-year period, according to Value Research data.
Going by the yield-to-maturity of the category, floating rate schemes may deliver upwards of 7 per cent in the next few years if interest rates remain elevated.
However, analysts say that this may not be the right fit for investors in the current interest rate scenario.
These schemes are most suitable during a rate-hike cycle, given their ability to partially absorb the interest rate risk.
"This may not be the right time, given the rate hikes are over. People have earlier burnt their fingers in this category due to its typical structure and communication gap between investors and fund managers.
"What's important is to understand the strategy deployed by each fund manager and select the fund that is best placed to deliver going forward," said Joydeep Sen, corporate trainer and columnist.
The last time investors placed large bets on floating-rate bonds, it turned out to be an unpleasant experience for many investors.
Amid extensive marketing of the product as the right fit in the rising rate scenario, investors poured around Rs 68,000 crore into these funds between April 2020 and October 2021.
However, investors started to flee soon after, largely due to poor returns.
Experts say that, contrary to the perception, most floating-rate funds are negatively impacted by interest rate hikes.
Due to the limited availability of floating-rate bonds and a few other factors, fund managers also invest in fixed-rate instruments and use interest-rate swaps to synthetically turn them into floating-rate bonds.
This fixed-rate exposure leads to mark-to-market losses during rate hikes.
However, this impact gets diluted over time when the swap deals mature.
As of the end of August, there were 13 schemes in the category, managing a total of Rs 63,400 crore.
Source: Read Full Article