The crypto market is always in flux, with new narratives and trends emerging each week. Renowned crypto analyst Miles Deutscher recently took to Twitter to share his insights on the altcoin space, shedding light on the tokens that are catching his attention.
Crypto Watchlist For This Week
Starting with UNIBOT, Deutscher highlighted its recent performance, noting that it's down significantly (-60%) from its highs. He attributed this decline to a combination of fear, uncertainty, and doubt (FUD) and a decrease in key metrics. However, he remains optimistic, suggesting that the accelerated selling might be slowing down.
"I used the dip as an opportunity to add to my position. I don't think there's a rush – but if you believe in the narrative you're now getting another chance to accumulate in the double digits," he shared, indicating a belief in the token's long-term potential.
KAVA is another token on Deutscher's radar. He pointed out several positive developments, including its addition to Fireblocks, a platform that serves as a gateway for institutions. Furthermore, the involvement of DWF Labs and Kava's role as a gateway to the Cosmos ecosystem for Tether are promising signs. The recent launch of their first perpetual decentralized exchange (perp dex) further underscores Kava's growing momentum in the market. "Recently added to my accumulation list + I'm watching the chart closely," Deutscher stated.
However, not all tokens are receiving a positive nod. The analyst expressed concerns about GALA, citing internal disputes between its founders. "The situation over there is crazy, with both founders suing each other," he remarked. This ongoing legal battle could potentially hinder the token's performance and future developments. Deutscher also raised concerns about GALA's centralization because of the fact that both the founders own 7,000 nodes and 50,000 nodes respectively, a revelation that emerged from recent documents.
In the gaming altcoin space, PYR stands out. Following the turbulence surrounding GALA, liquidity seems to be moving towards other gaming tokens, with PYR emerging as a strong contender and probably the closest counterpart. Deutscher praised its resilience and positive accumulation phase, hinting at its potential for growth. "Upon checking the PYR chart, we rarely see a token in such an extended/positive accumulation phase", Deutcher remarked.
Another altcoin to watch is Maker (MKR). Currently, the community is abuzz with the news of their "End Game" initiative. Deutscher highlighted the project's ambitious plans, including the proposal to launch their own native chain and move away from Ethereum. This move, however, has not been without controversy. "Vitalik obviously didn't like it, as he sold his remaining MKR," Deutscher mentioned, pointing to the Ethereum founder's recent actions.
Sui Network (SUI) is another token that's been performing well, with a 70% increase in its Total Value Locked (TVL) over the past month. Deutscher sees potential in SUI, hinting at its explosive growth when it gains momentum: "When SUI pumps, it pumps hard. Definitely not one I'm fading when it wakes up (from a price perspective)."
Short Solana (SOL)?
Lastly, Deutscher touched upon Solana (SOL), a high-performance blockchain platform, which has recently been the subject of much discussion and speculation in the crypto community. The analyst pointed out that there's been "negative noise" building around Solana, particularly in relation to the upcoming FTX liquidations.
These liquidations have raised eyebrows due to the potential impact they could have on the token's price. While some in the community believe that the effects of these unlocks and the eventual "forced selling" are already priced in, Deutscher suggests that the current lack of liquidity in the market might amplify the price fluctuations more than many expect.
The situation is further complicated by the involvement of Galaxy, who are responsible for handling the funds. They are scheduled to appear in court on September 13th to present a liquidation plan. The figures being discussed are significant, with potential liquidations of up to "$100m weekly, and up to $200m for select tokens."
Despite these challenges, Deutscher remains strategically optimistic about Solana's long-term prospects. He hinted at the possibility of adding to his long-term positions if a price correction occurs. However, he also noted that the current environment might present "interesting short opportunities" for those with a keen eye and a willingness to navigate the risks.
At press time, SOL traded at $19,22. After falling below the 50% Fibonacci level ($20.22), a deeper retracement to $17.33 could be on the cards.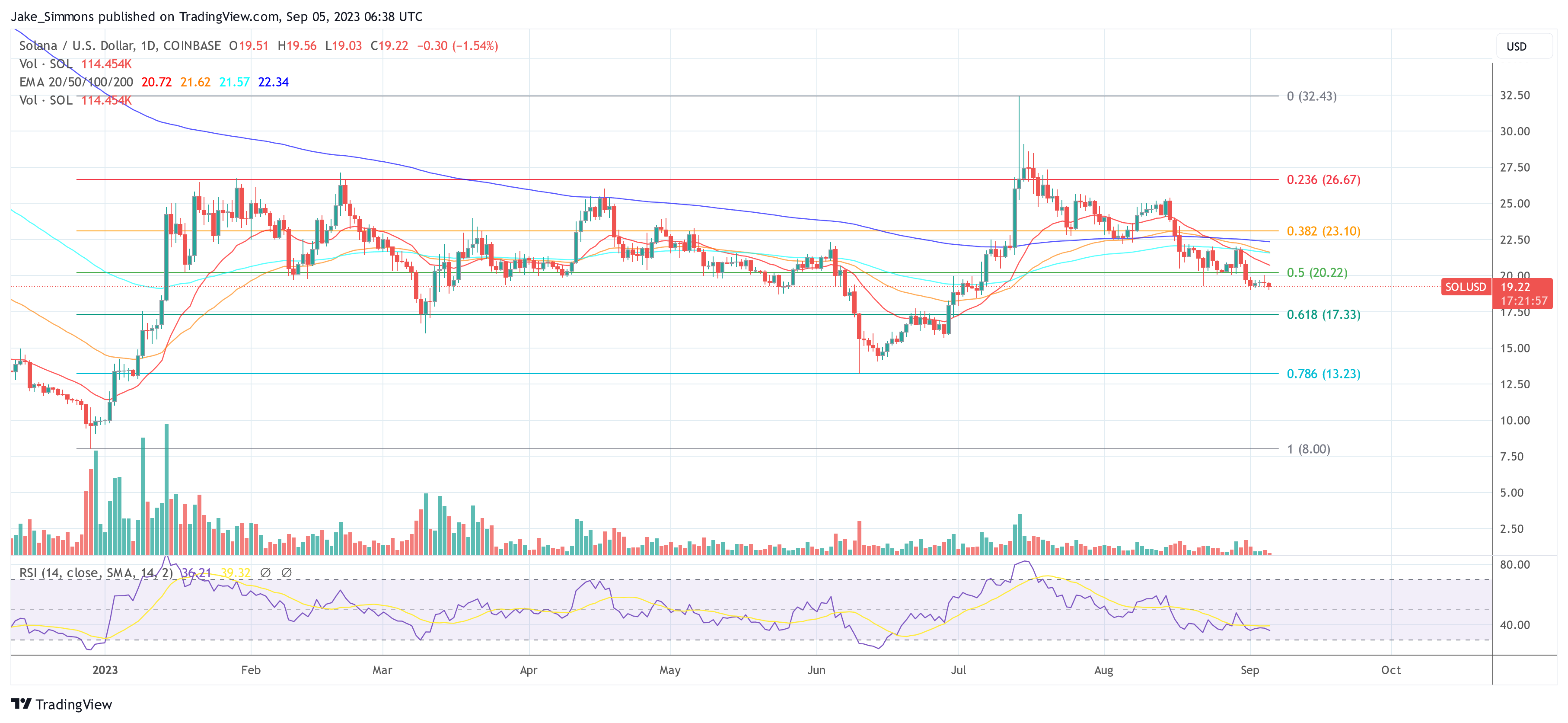 Source: Read Full Article