Ethereum spiked as high as $1.1k after a 30% advance on Sunday, a level not seen since February 2018.
The market has since cooled off, back to just below the $1k level at the time of writing. But having breached psychological resistance of $1k, expectations of a continuation are heightened.
Head of Business Development at Luno exchange, Vijay Ayyar, attributed the move to Bitcoin's epic run of form. He said investors are cycling BTC profits back into other tokens, with Ethereum being the primary beneficiary.
"What we're seeing is the standard moving of the crypto markets from Bitcoin to the Altcoin market led by Ether. This rotation happens usually when Bitcoin has a large rally and investors rotate profits" into other digital coins."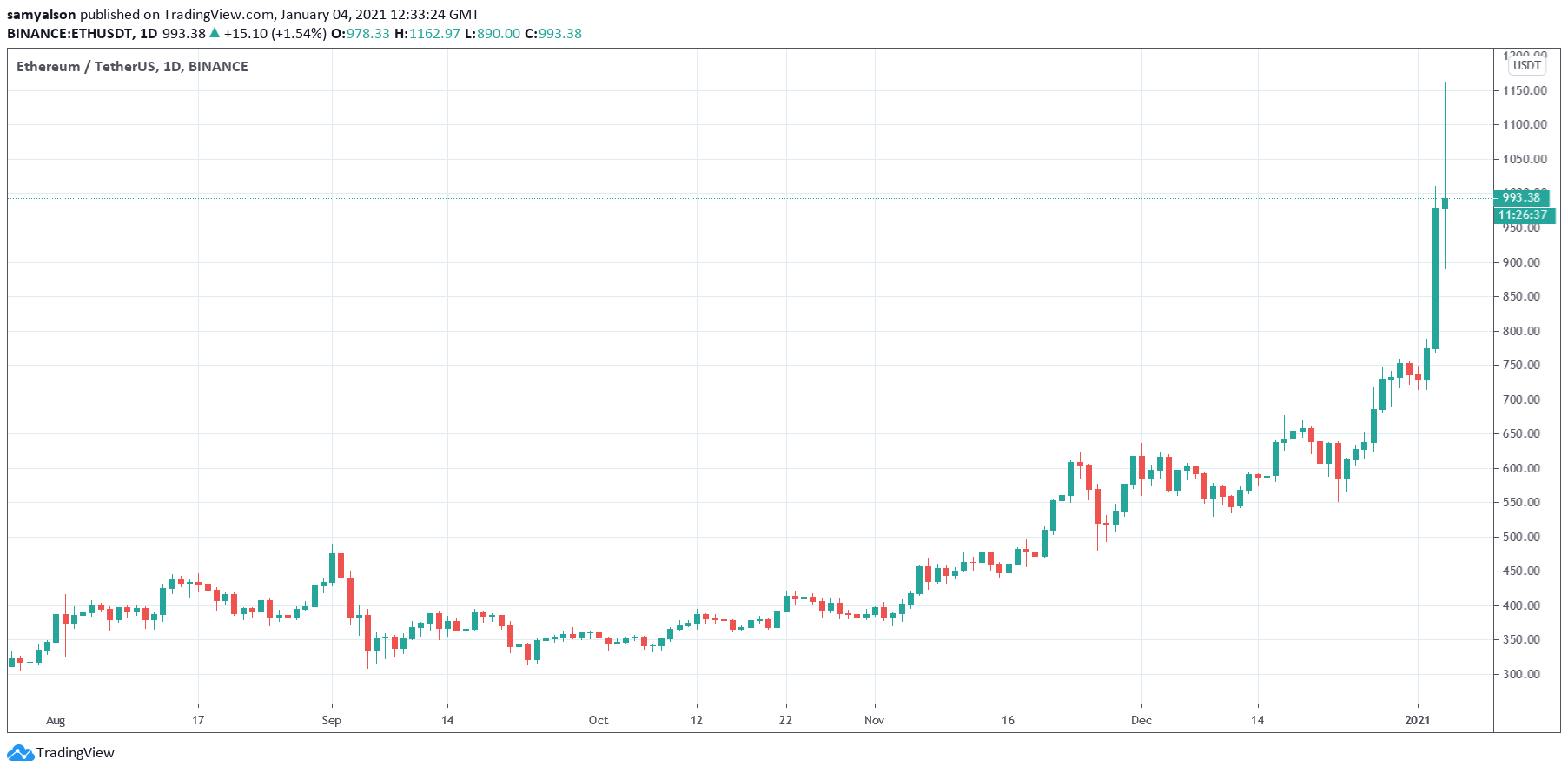 Source: ETHUSDT on TradingView.com
The second-biggest cryptocurrency by market cap has outperformed Bitcoin over the last 12 months. It is up over 600%, versus Bitcoin's 300% gains over the same period.
However, as Ethereum holders celebrate the price action, the issue of high gas fees, which last featured prominence during the summer of DeFi, rears its head once again.
Tushar Jain, the Managing Partner at Multicoin Capital, said a Uniswap trade currently costs $100. He went on to say that this situation is leading to "anti-network effects." All in all, Jain believes the Ethereum network is now incapable of adequately supporting DeFi usage.
"Ethereum is suffering from anti-network effects. Each new user makes the system less usable for other users by crowding them out. For example, it currently costs ~$100 in gas to trade on Uniswap. Simply sending some ETH around costs ~$10. DeFi has outgrown Ethereum."
Gas Fees Spike on Ethereum
Gas fees are an essential component of the Ethereum network. They refer to a unit of measure that equates to the computational effort needed to execute certain network operations.
"Gas prices are denoted in Gwei, which itself is a denomination of ETH – each Gwei is equal to 0.000000001 ETH (10-9 ETH). For example, instead of saying that your gas costs 0.000000001 Ether, you can say your gas costs 1 Gwei."
Average gas fees yesterday hit a figure of 177 gwei, which is still much lower than the average gwei seen during the summer of DeFi.
Source: etherscan.io
However, the price of Ethereum was also much lower in the summer, ranging from between $200 and $400.
Gas fees are calculated in relation to the price of Ether. Therefore, the higher the price of Ether, the more users pay in gas costs.
With that in mind, in terms of network useability, the worst possible scenario would be for Ether to rocket past its all-time high and the average gas prices to reach the same levels as during the summer.
If such a situation played out, which is likely in the coming weeks and months, Jain's point on "anti-network effects" would prove correct.
Source: Read Full Article