Crypto tokens with Artificial Intelligence (AI) applications have outperformed other assets as chipmaker Nvidia reached an all-time high. The legacy company's stock price saw important gains as its bet on the AI sector paid off.
As of this writing, crypto market tracker Coingecko data records double-digit gains for AI-based cryptocurrencies. Render (RNDR) and Akash Network performed best in the last 24 hours and the previous week, respectively, with the former recording a 6% profit and a 10% gain.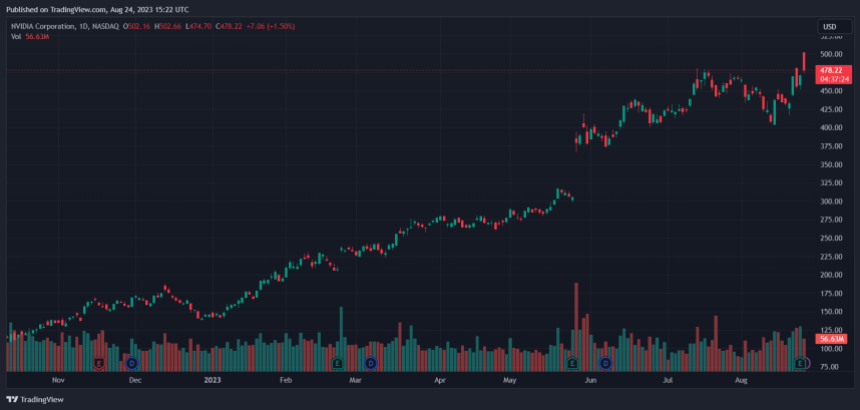 Nvidia Fuels AI Crypto Rally, But It's the Trend Sustainable?
According to a report from Sarson Funds, the correlation between crypto AI tokens and Nvidia is "strong." The chipmaker has spearheaded the AI trend in the legacy financial sector and sparked interest in this technology.
As a result, and under current market conditions, AI crypto tokens are moving with Nvidia's (NVDA) stock price. Sarson Funds stated the following regarding NVDA's rally and its impact on the crypto sector:
AI-powered cryptocurrencies are reacting positively to Nvidia's stellar Q2 earnings! The connection between #crypto and AI is stronger than ever as Nvidia ($NVDA) exceeds estimates with $13.51B in sales and $2.70 EPS, outperforming predictions. Notably, Render Network +8%, Singularity NET +9.9%, & Fetch +8.7% upon the announcement.
In that sense, the fate of crypto tokens is highly linked to NVDA's future performance. The stock's gains were tied to better-than-expected results in its quarterly report and are likely to continue in the coming months.
According to the company's recent report, AI chip sales will only accelerate, boosting Nvidia's revenue and potentially spilling into the crypto sector. In addition, other tech giants are jumping on the AI fever, reinforcing the thesis that the new technology will unlock further gains.
Nvidia's CFO Colette Kress told investors this regarding their expectations for the coming months:
There is tremendous demand for Nvidia accelerated computing and AI platforms. Our supply partners have been exceptional in ramping capacity to support our needs. We expect supply to increase each quarter through next year. By geography, data center growth was strongest in the U.S. as customers direct their capital investments to AI and accelerated computing.
In the meantime, crypto traders might use NVDA's as a proxy for AI crypto tokens performance. If the forecasts are accurate, NVDA will likely double its current stock price by the end of the year; how will crypto AI tokens stand by then?
Cover image from Unsplash, chart from Tradingview
Source: Read Full Article